From The Conversations on 08/28/20 by Jennifer Mercieca:
Trump spoke in stark terms about the choice facing Americans in November. "This election will decide whether we will defend the American Way of Life, or whether we allow a radical movement to completely dismantle and destroy it," he said.
And Trump promised to be the nation's hero. He said that he would protect "the patriotic heroes who keep America safe," while his opponents would "stand with anarchists, agitators, rioters, looters and flag-burners."
He quoted one of his own memes, saying he is the only thing standing between vulnerable Americans and what he calls the nation's dangerous enemies within. "Always remember," he said, "they are coming after me, because I am fighting for you."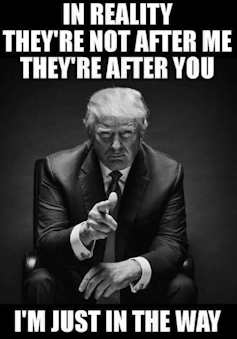 Trump's Republican nomination acceptance speech didn't reach across the aisle to draw in the support of Democrats or Democrat-leaning Independents. It wasn't a speech for all of America – it was a speech designed to appeal to Trump's base and terrify them into voting for him. That's authoritarian.